Now booking school visits for school year 2021-2022!

My programs support curriculum standards while exciting students about reading, writing, publishing and science. I emphasize hard work, persistence, embracing constructive criticism, and recognizing each student's unique gifts. My programs challenge students to be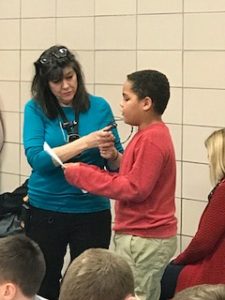 readers, writers, and thinkers!
To schedule a visit, use the contact form on this site. Please write Author Visit plus the name of your school in the subject line ~ example: "Author Visit, Gables Elementary"
Linda for a Day

I present two leveled literacy-heavy presentations, followed by two additional programs: Author Walkabout (Q&A); Idea Generation Assembly/Workshop, or Mentor-Writing workshop for kindergartners.
$1000 plus expenses (additional days can be added at a discount)
Optional Add-on:
Connect with Linda all year long ~ Add a school-wide license to Linda's Author Kids' Club for an additional $990 (normally $10 per student/family). Not only can you add some writing heft to your school through the tips and tricks in the monthly club packets (delivered digitally for you to print and distribute) but form a bigger connection between your kids and your visiting author. See details of the program here.
 Bring the Animals ~ Add a day-time school visit with Columbus Zoo and Aquarium animals for only $200 inside Franklin or Union Counties, or $300 all other Ohio counties, for a truly unique and educational visit! See their flyer here:    Columbus-Zoo-flyer   ~ 30 minutes
I was so impressed with the manner in which you altered your presentation to fit the needs of each group that came in, tailoring your words, presentation slides, and even your stage presence to reach each age group at their respective cognitive level. They were certainly paying attention. Our teachers have also remarked about the quality of the content of your presentations with your focus on the writing process. Thank you! Cori Niese, Napoleon Elementary
Having Linda Stanek come to our school was absolutely MAGICAL!!  She worked with all 352 of our students, and every single one was incredibly excited to both meet her and learn from her! The highlight of the day, in my opinion, was when we had a writing workshop with our 2nd -5th graders!  That equated to 257 students WRITING simultaneously!!! The students were totally engaged in the work, so excited to share their stories, and our staff was so impressed to be a part of such a unique experience!  We will invite Linda to return to Cookson Elementary School to inspire more students to unleash their own personal writing magic!!!!–Stephanie Johnson, Principal  (K-5 bldg) Troy, Ohio
From a parent:   Just wanted to send a big Thank you. My son attends Cookson Elementary. He came home last night made a chart he learned from you yesterday in class and wrote two very interesting stories. He hasn't stopped. I am shocked at his ability to make it interesting. So big thank you. He was at it again this morning before school. I know you probably reached many children yesterday but thank you for reaching mine. Have a great day.
Every teacher I saw expressed how wonderful the presentations were. We were all so impressed by how you captured the attention of all of our students even in the whole school assemblies. Your presentations are so well thought out and executed. ~Rhonda, Darby Woods Elementary
Our Science teacher was thrilled you mentioned keystone species, and the English LA teachers are happy to have your writing and revising tips to refer to for the rest of the year. ~ Ansonia Elementary

Read more recommendations here.