I'm now booking school visits for 2016-17. In addition to doing visits alone, my friend, Alaska author Jen Funk Weber will join me in

May 2017

for a new round of science-heavy  (plus literacy) Author Events. See details below.


I've received so many nice compliments about your programs and especially the writing workshops. The teachers loved the way you had things set-up for the mini-lesson and said the kids really did a great job with it. They were also so excited about the zoo program and we're very grateful that was a part of the program that you and Jen offered!~Liz, Lincolnville Elementary, Van Wert, Ohio

Every teacher I saw expressed how wonderful the presentations were. We were all so impressed by how you captured the attention of all of our students even in the whole school assemblies. Your presentations are so well thought out and executed. ~Rhonda, Darby Woods Elementary

Loved the cross-curricular of  science and reading. You met stale standards (compare and contrast) while fully engaging everyone! ~ Fairbanks Elementary
Our programs support Ohio curriculum standards, CCSS, and the New Generation Science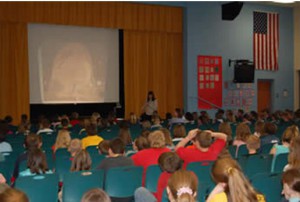 Standards, while exciting students about reading, writing, publishing and science. I emphasize hard work, persistence, embracing constructive criticism, and recognizing each student's unique gifts. My programs challenge students to be readers, writers, and thinkers!
To schedule a visit, use the contact form on this site. Please write Author Visit plus the name of your school in the subject line ~ example: "Author Visit, Gables Elementary"

 
Our Premium Author Visit Program ~Two Authors, Two Days!
In Spring of 2017, I will be joined by Alaska author Jen Funk Weber.  Jen's book, Been There Done That, Reading Animals Signs was inspired by her life in Alaska. She creates a teachable moment for schools as we compare and contrast life in the Midwest vs Alaska. We talk climate, wildlife, northern lights, and day and night light. She also brings artifacts with her (a moose antler, for example, and a plaster cast of a wolf print), allowing students a rare opportunity for a hands-on experience. To complement this science-heavy presentation, I present two grade-leveled literacy-heavy assemblies and a multi-grade writing workshop.
We return the following day to tackle the number one writing struggle that we see in schools: Idea generation. Because we find the single biggest stumbling block for student writing to be coming up with great ideas to write about, we spend our second day presenting our idea generation workshop for four grade-level groups (up to two classes, grades 1 and up).                                                                                                                                                                           Two Authors, two days, $2000 plus expenses
Two Authors, One Day!
Together, Jen and I visit for a single day where we present the science-heavy Alaska presentation, followed by two leveled literacy-heavy presentations, and ending with a single multi-grade writing workshop, or a mentor writing workshop for kindergartners.                 Two Authors, One Day: $1200 plus expenses
Linda's One-Day Program
When I visit alone, I present two leveled literacy-heavy presentations, followed by two additional programs: Author Walkabout (Q&A); Multi-grade Writing  Workshop, or Mentor-Writing workshop for kindergartners.                                                                                                        One Author, One Day: $800 plus expenses
For schools without the funds for a full day visit…
If your school simply can't afford a full-day visit, and you are located within an hour and a half of my home in Dublin, I can offer you a half-day program consisting of two large-group, leveled assemblies and a book sale with this program.  $450 plus mileage
Add-ons for Full-Day Programs
 Add-On 1:
Can't afford Linda and Jen for two days?
Hold an After-School Teacher In-Service to be trained in their idea generation methods that not only keep them constantly writing, but will teach you to train your students to generate ideas too! $500.
Add-On 2:
An Evening Family Event: Winter in Alaska! Alaska is a popular tourist destination. Remote lodges provide hunting, fishing, and sightseeing services. But the vast majority of people visit Alaska in the summer, so lodges close during the long winter. Windows are boarded up, water pipes drained, and generators shut off. Guides, cooks, and service staff leave. All that remains at these remote lodges is, perhaps, a caretaker or two.
Jen Funk Weber, along with professional photographer husband Mike, spent ten years as winter caretakers for remote lodges in Alaska. They shoveled roofs and airplane wings, kept animals out of buildings, and re-stocked wood sheds. Perhaps the biggest job, however, was just taking care of themselves: living without electricity, running water, telephones, neighbors, easy access to medical care, or sources of entertainment.
Come see what few visitors to Alaska ever see: Winter in Alaska. ~ 60 minutes, $200

Add-On 3:
Bring the Animals! Add a day-time school visit with Columbus Zoo and Aquarium animals for only $200 inside Franklin or Union Counties, or $300 all other Ohio counties, for a truly unique and educational visit! See their flyer here:    Columbus-Zoo-flyer   ~ 3o minutes

"Linda Stanek was very personable with the kids and adults. She was so easy to talk to and to work with. I can't wait to have her back!" ~ Lynchburgh-Clay Elementary School
Read more recommendations here.