I love to meet  authors-to-be. I feel  a kinship to these folks–those people who carry that "crazy idea" around inside of them. That hope. That dream. That longing and little voice that whispers, "I want to write a book."
Just for you, I've started a new YouTube channel for writers of all kinds, but especially kidlit writers! Look me up at Linda Writes for Kids, or go here.  I'd love to meet you there!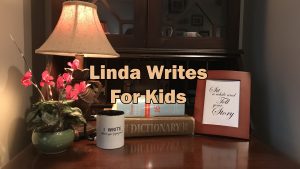 I urge all those interested in children's writing to be to join The Society of Children's Authors and Illustrators (SCBWI). There is a wealth of information on their website, including word-counts for different genres, how to format manuscripts, and where the conferences are being held. In my opinion, they are worth every penny!
I believe the best thing I ever did for my writing was to get into a great critique group (and I did that through SCBWI).
"If you want someone to tell you your writing is wonderful, have your mother read it. If you want to improve your writing, join a great critique group."
Finding the right critique group can be a matter of trial and error. I've known people who have been in a few before settling into the right one. Look for a group of writers who are at about the same place in their writing as you–you will be amazed at what you will learn together–and make sure that your co-writers are as dedicated as you. Because I was a busy stay at home mom when I joined my first group, I went for an online group. That way, I could critique during whatever hours worked for me.
Critiques
I have been doing critiques for almost 20 years, and am still making time for it, though I'm currently limiting myself to picture book critiques only. I charge $75.00 for a comprehensive critique, which includes tracked changes in the manuscript, pointing out possible problems and suggested solutions. I'll also send a detailed letter in which I'll talk about your story's overall strengths, places I think you could strengthen it more, and ideas on how to do that. Some manuscripts make me think of editors or publishing houses who might like it, and if so, I'll mention those thoughts as well. I give honest critiques, focusing on polishing and solutions, and strive to have it returned within two weeks.  Those seeking a critique from me should use the contact form on this site. Please write Critique Request in the subject line. Manuscripts should be complete to the best of your ability (no rough drafts), of no more than 800 words, typed, and doubled spaced.
Here are some endorsements:
Eagle-eyed Linda Stanek astounds me with her editing skills, routinely catching errors in my work and proposing more efficient sentence-structure moves.
– Jenny Patton, Professional Writing instructor at The Ohio State University,
 proofreader, reporter and copywriter
Whether I'm in need of a broad perspective to solve a plot or character problem or a laser-focused perspective to assure age-appropriateness and clarity, Linda is my go-to editorial resource. Her education background, her experience working with kids in and out of the classroom, and her own writing career give her the tools and insight to identify and fill holes and smooth rough edges in a manuscript.
-Jen Funk Weber, author  
Linda Stanek is a true find. Not only does she offer a top-notch editorial service (never hurts to have an extra set of eyes watching out for grammar and punctuation mistakes), but she also offers creative input, which makes a story stronger.
-Christine Pollock, writer and editor
Linda's keen eye for detail and insight into plot structure will help any author's story reach its brightest and fullest potential.
-Dale Ibitz, YA author  
Book Trailers for Authors
If you need a book trailer, similar to mine here, contact me and we'll discuss the possibilities.
For Zoos, Aquariums, and Museums
Need help bringing together a group of experts to write your story in a clear, consistent voice? Let me help! I hold writing workshops to create a finished nonfiction product, from outlining and drafting, to revision and submission. Recently, I helped teams from the Cincinnati, San Diego, and Columbus zoos write a chapter of a book for famous cheetah conservationist, Dr. Laurie Marker.
Book Reviews
I have written book reviews for Junior Library Guild, and currently review children's picture books for the New York Journal of Books. I also review books and write about them on my blog and other social networking sites. If you have a traditionally published picture book (I am especially interested in nonfiction books for kids) that you would like to have reviewed, please contact me for mailing information. Use the contact link here and write Book for Review in the subject line. I will review as many of those as time allows.