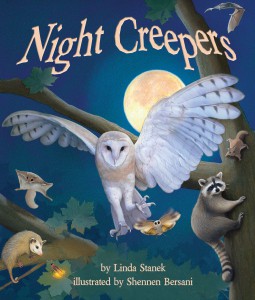 Exciting News! Night Creepers cover reveal! Coming Fall 2017 from Arbordale Publishing.
Once Upon an Elephant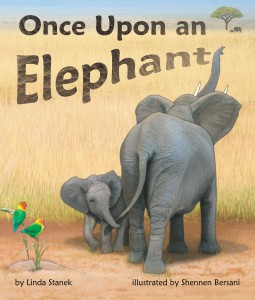 Recommended on the National Science Teachers Association website here!
From Patricia Simms, Co-founder of World Elephant Day:
Once Upon an Elephant is a beautifully designed and written story, suitable for children as young as four years old up to four or fifth graders. By using a child-oriented language the story tells the important role elephants play in their environment. It shows that their existence is crucial for other species to survive, both plants and animals. It describes in simple sentences what elephants do and the effects they have on their environment and on other animals who share the same habitat. All facts reflect accurately the interrelations between elephants and their environment. We appreciate the realistic and beautiful illustrations of animals and the African scenery.
The book not only imparts knowledge about elephants and the purpose of their existence but also includes games and activities plus further information about where to find even more ideas to engage in fun activities, which will reinforce the facts the children listened to or read about.
As co-founder of World Elephant Day, which is celebrated August 12th, I would like to thank Linda for helping to build awareness and bring attention to the plight of Elephants. It is the mission of World Elephant Day to inform, motivate and encourage people to educate themselves and their children, take action and make responsible choices.
Review from a zoo educator:
By Bambini Travel on January 23, 2016
Once Upon an Elephant is a beautiful look at the way these large, lumbering creatures affect all of the other creatures in the great Savannah. Told through gentle repetitive phrasing and soft expansive illustrations, you can feel the slow movement of the elephants as they shape the world around them. Elephants are able to adapt the world every day with their tusks, their trunks, their footprints and even their dung. The impact that they make and the animals they help, so wonderfully described throughout the book, are in great danger as elephants grow closer to extinction. A powerful message and elegant book about these great animals.
From reviewer Traci Bold:
'ONCE UPON AN ELEPHANT' is a quiet yet powerful narrative non-fiction picture book that children and adults alike can appreciate and learn from.
Author Linda Stanek tells the story of the keynote species of the Savanna habitat, the elephant, in a compelling and straightforward narrative. She also gives a bigger insight into the savanna and the harsh reality of how the elephants are in danger of being a 'once upon a time' species which would be catastrophic to the savanna ecosystem.
Illustrator, Shennen Bersani captures the majestic beauty of these beautiful animals as well as all of the other creatures of the savanna with her beautiful, heartwarming and endearing illustrations.
Together, Stanek and Bersani have a hit on their hands for educators and parents and children.
This book is fantastic in it's entirety. My hope is that the message in this book is heard loud and clear and that 'once upon a time' never happens.
Beco's Big Year: A Baby Elephant Turns One
 In March, 2009, The Columbus Zoo and Aquarium trumpeted the news–a baby elephant was born! Now, to celebrate his first birthday, we bring you Beco's Big Year. Learn about Beco, elephants in zoos and in the wild, and about conservation efforts to keep these magnificent animals from becoming extinct.
Good Fun Sudoku for Kids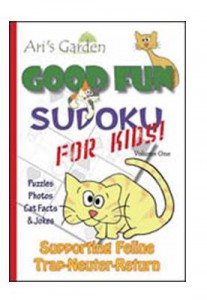 Sudoku puzzles for kids or any beginner—4×4, 6×6, 8×8, 9×9—with fascinating cat facts, photos, and jokes.
The Pig and Miss Prudence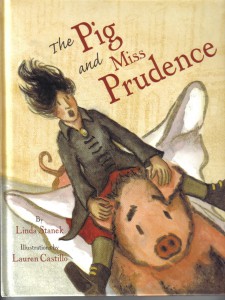 New York City faced many challenges in the 1850s. A time of tremendous immigration, language barriers, few housing regulations, and no social services, life was often difficult at best. But one challenge that might surprise readers is the effect livestock had roaming the city streets. In 1851, The New York Times ran an article about how pigs were wreaking havoc about the city–digging up people's gardens, and startling carriage horses in the streets. With no laws about the penning of livestock, this situation existed not only in New York City, but in other cities across the nation. The Pig and Miss Prudence is based on that little known fact. Illustrated by Caldecott Honor Winner Lauren Castillo. Picture Book for ages 5-8.
COMING IN 2017~

Night Creepers: a nonfiction about North American nocturnal animals, from Arbordale Publishing, and illustrated by Shennen Bersani.

"I have been in working in the children's publication world for more than 15 years. In that time, I have been published in magazine, books, ezines, and even corporate materials aimed at kids."