It wasn't a huge leap to go from a background in teaching, to writing for children and teaching writing in my school visits. Utilizing my teaching degree from The Ohio State University, I have written children's books, magazine articles, and standards-correlated Teacher's Guides, as well co-authored a college text book on cheetahs and now, a STEM correlated comic-mystery series being used in schools in Pakistan! I have worked with and presented to children and adults from preschool on up in the areas of literacy and conservation.
Sadly, in-school visits are suspended until further notice. Contact me if you are interested in a Zoom visits, and please consider the Author Kids' Club for connecting kids to an author all year long.

Newest Books
River Otter's Adventure has made it's way onto the Tejas Star 's 2021-2022's Reading List.  Thank you, Texas Library Association!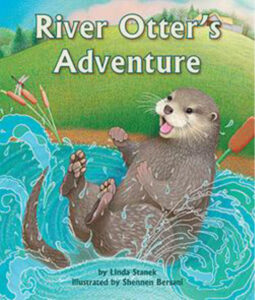 "The repetitive format will soothe younger children and build confidence in older ones. The introduction of exotic animals among more-familiar ones adds variety. Some readers might see the river otter's journey as a support of identity play and self-acceptance; others can simply indulge in all the ways to act like animals. Cute and playful, like its featured critter."                     ~Kirkus Reviews, May 2020. 
Sheeba and the Private Detectives
It's not every day that you are invited to write for kids who live in a far away country, yet that's what happened in 2019. Sheeba and the Private Detectives is set in Pakistan and features four fearless detectives and their pets. Written for children who are English language learners, these books were an instant hit in Pakistan. Now, AzCorp Entertainment brings them to the states.
Cheetah Dreams
Cheetah Dreams, winner of the Nautilus Award! Cheetahs are the big cat in Africa moving most rapidly toward extinction. These genetically fragile cats not only face pressure from loss of habitat, but from human/animal conflict as well. Learn all about them, and things that are being done to save them in Cheetah Dreams.
 Once Upon an Elephant
Elephants are keystone species, which means that losing them would result in losing other species as a result. Learn about these amazing and important animals in this books.
Once upon an Elephant also won the IRA's Children's Choice Book Award's 3rd-4th grade Book of the Year, as well as, being named a Choose to Read Ohio title for 2019-2020. Other awards include: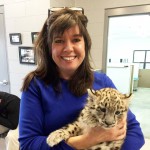 National Science Teacher Association's recommended book
Delaware Diamonds State Reading List
Ohioana State Awards finalist
Pennsylvania Keystone to Reading Book Award finalist
Night Creepers ~ About nocturnal and crepuscular animals.
Don't kno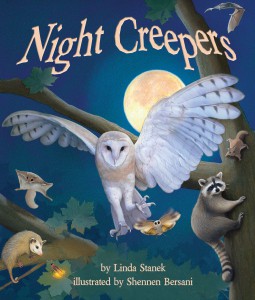 w what a crepuscular animal is? You need this book! See the book trailer here.
Kirkus Review: Meet a few of the mostly North American animals that come out at night. "Waking up. // Noisy pup. // Flutter high. // Gliding by." The book works equally well for lap-sitters and older children since these rhyming verses accompany longer paragraphs about each species… Highly detailed, sometimes–hyper-realistic illustrations bring these animals to life for readers…   Read full review here.
Heather Wade, Midnight In The Desert Radio Host:  Night Creepers is a true delight. A beautiful and graceful way for children to learn about nocturnal animals through the gentle writing of Linda Stanek and the gorgeous illustrations of Shennen Bersani. This is the children's book I wish I had as a kid, and I look forward to sharing it with all the young people I know. Shennen Bersani and Linda Stanek are producing children's books that are more than just books, but works of art and true classics that will never go out of style."