I'm Linda Stanek, and I'm glad you're here!
It wasn't a huge leap to go from a background in teaching, to writing for children and teaching writing in my school visits. Utilizing my teaching degree from The Ohio State University, I have written children's books, magazine articles, and standards-correlated Teacher's Guides, as well co-authored a college text book on cheetahs and now, a STEM correlated comic-mystery series being used in schools in Pakistan! I have worked with and presented to children and adults from preschool on up in the areas of literacy and conservation.
Now booking school visits for 2019-2020.  As the author of one this year's Choose to Read Ohio titles, visiting schools around the state is extra exciting this year!
Cheetah Dreams, winner of the Nautilus Award!
Also so proud that Once Upon an Elephant has garnered even more accolades!
This time, it's a "Choose to Read Ohio" title for 2019-20.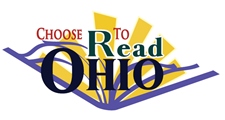 Thank you, thank you, Ohio librarians! More to come on this…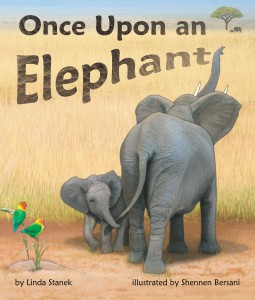 Once upon an Elephant also won the IRA's Children's Choice Book Award's 3rd-4th grade Book of the Year, as well as,
National Science Teacher Association's recommended book
Delaware Diamonds State Reading List
Ohioana State Awards finalist
Pennsylvania Keystone to Reading Book Award finalist
August 2018 Interview on a Podcast. Listen here!
Out in 2017, Night Creepers about nocturnal and crepuscular animals.
Don't kno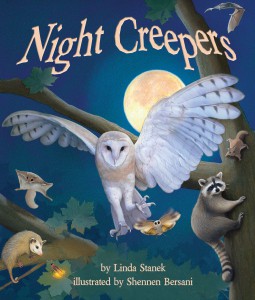 w what a crepuscular animal is? You need this book! See the book trailer here.
Kirkus Review: Meet a few of the mostly North American animals that come out at night. "Waking up. // Noisy pup. // Flutter high. // Gliding by." The book works equally well for lap-sitters and older children since these rhyming verses accompany longer paragraphs about each species… Highly detailed, sometimes–hyper-realistic illustrations bring these animals to life for readers…   Read full review here.
Heather Wade, Midnight In The Desert Radio Host:  Night Creepers is a true delight. A beautiful and graceful way for children to learn about nocturnal animals through the gentle writing of Linda Stanek and the gorgeous illustrations of Shennen Bersani. This is the children's book I wish I had as a kid, and I look forward to sharing it with all the young people I know. Shennen Bersani and Linda Stanek are producing children's books that are more than just books, but works of art and true classics that will never go out of style."